Our Missionaries
 The Ross Family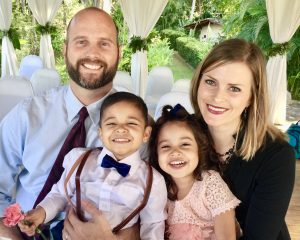 Justin went on his very first mission trip to Panama in 1993, and his heart and life were forever changed. Since then, he has felt a strong calling on his life to be a part of international missions and to mobilize other believers to get involved in eternal work for the Kingdom of God. Over the past 21 years, he has trained or led over 1,300 missionaries to more than fifteen countries. In 2009, Justin and his wife, Ashley, served as full time missionaries in San Pedro Sula for 15 months, and during this time the organization now called Sparrow Missions was formed.
In May of 2013, Justin and Ashley moved back to San Pedro Sula, where they currently live and serve as full-time missionaries. Justin oversees the daily ministry taking place in the city and is responsible for training and leading local staff members. Ashley actively leads the women's discipleship ministry, while also managing and coordinating short-term mission teams who are staying at the ministry house.
Justin and Ashley are also in the process of adopting two little additions to their family. Aaron and Graciela are two beautiful twins who Ashley and Justin welcomed into their family at birth!
---
The Bowman Family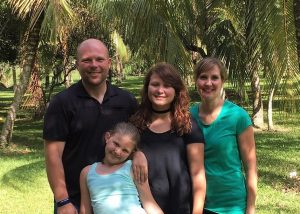 After serving on a short term trip to Honduras in 2010 and witnessing firsthand the plight of abandoned children in the country, we felt a strong call to help in whatever way God may direct us.  Not long after opening our home as a foster family in Kentucky, we were approached with the opportunity to become directors of the Sparrow Children's Home and provide abandoned children in Honduras the opportunity to grow up in a family rather than an institution.  We accepted the call, along with our daughters Tara and Ella, and made Honduras our home in June of 2014.
Just two weeks after moving onto the property of the Sparrow Children's Home in 2015, we were blessed to welcome our first two babies into our home to become part of our family, and were blessed with two more in July of that same year.  Besides raising these precious children, we currently work with other ministries in our community as well.  I work with an elderly assisted living community in Tela on a weekly basis as well as handling the day to day operations of the Children's Home.  Roxanne leads a weekly women's Bible study for our community, and also helps out with the sewing clinic on site.  Roxanne has a PhD in Pediatric Nursing and will be opening a medical clinic on site for people in our community very soon as well.
We ask for continued prayer as we care for the four children God has blessed us with and the daily challenges that come along with that calling.  Pray that we be intentional with times of rest as well as wisdom concerning continued opportunities to serve as we become more invested in our community.  Finally, as always, we ask prayer for our two precious daughters, Tara (13) and Ella (10), as they continue to adjust to life here.  Even after three years in country, it is still a struggle sometimes as they miss family and friends, and life is just a little more difficult living in the Honduran countryside.
---
The Schwarting Family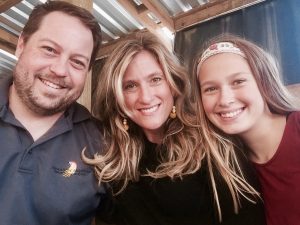 Our family lead a mission trip to San Pedro Sula for the students of our home church in the summer of 2013.  It was shortly after that trip that God began to plant the seeds for full time ministry in Honduras in our hearts.  Missions, serving outside the church walls, is something we had always placed high value on in the life of our family.  Our children grew up with the knowledge that they would be going on a mission trip every year.  So, the step from short term trips to long term missions was a natural one.  Honduras, specifically, captured our hearts simply because it is where God called us to.  We were overwhelmed by the commitment and vision of Sparrow Missions and we are honored to join the team. It is our passion to continue to impact the lives of students for the sake of the Gospel both in the United States and Honduras through our time here.
Currently, along with the Harris family, we are attending language school in Siguatepeque.  It is an invaluable tool to be able to speak the language of the people we hope to minister to and serve alongside.  After school, our families will be residing in San Pedro Sula.  With Sparrow Missions, we will be enhancing a vocational and life skills program for children, teens and adults in the community.  Also, we are  excited to develop and implement a gap year program for college age students. Students that attend will get to experience day to day life as a missionary, as well as receive intensive discipleship, language learning and certification in TESOL.  It is a true blessing to get to live out true Biblical community and partner with the Harris family as we pursue God's joint calling on our lives. 
Prayer Requests:  our marriage, our children (both in the United States and Honduras), ongoing language learning, development of the ministries that God has placed on our hearts, that we would draw closer to and lean more fully on the Lord every day
---
The Weeks Family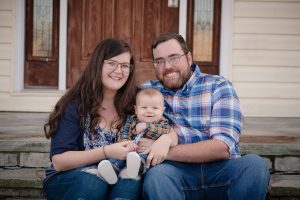 Chris & Alishia Weeks are house parents at The Sparrow Children's Home. Chris & Alishia have served in Honduras with Sparrow since December 2014. They have 4 children in their house: Baby Micah and their 3 foster children K, B, and A who have lived with them since January 2016.
Chris & Alishia are also very involved in community outreach in their town of Santiago. Alishia teaches English at the local public school and helps lead a sewing clinic for the community every Wednesday. God is doing amazing things in Santiago, and Chris & Alishia feel blessed to be a part of it. Chris also works with Ministerio Vida in Tela. It's a men's rehabilitation center where he teaches Celebrate Recovery classes and welding and carpentry. They pray God continues to lead them daily to minister wherever He calls.
---
The Harris Family
In 2001, when we were dating, we traveled to Uganda for our first missions trip together. Our hearts were simultaneously captured and we knew that one day international missions would be our future. Throughout the next 15+ years, "the missions talk" would resurface, but the timing was always wrong. In 2013, we were part of a youth trip to San Pedro Sula. During that trip, we both felt a renewed passion and a deep love for this country. Over the next few years, we returned numerous times and brought our kids as well. Our hearts were stirring and we longed to be part of what God was doing in the country and people we treasured. Long story short – this path led us to become part of Sparrow Missions. We truly believe that NOT one is forgotten by God. We are thrilled to have a front row seat in all that God is doing here in Honduras. We value short-term missions, practical ministry, and discipleship. We are blessed to partner with the Schwarting family as we seek to fulfill the Great Commission.
Currently, we are attending language school in Siguatepeque. It has been an awesome experience and a needed time of transition for our family. School is tough, but we know that our time in classes is a lasting investment in our ministry. After school, our family will join the Schwartings in San Pedro Sula. In June, we are kicking off our summer internship/gap year program, SPRW504. Students who attend will experience day-to-day life as a missionary, as well as receive intensive discipleship, language-learning and TEFL certification. Our program will work alongside the many facets of Sparrow Missions. We will also seek to enhance vocational and life skills programs for children, teens and adults in the community.
Prayer Requests: Our family – Pray for our marriage and our children as we continue to transition and settle. Our schooling – Pray that we would finish well! Our ministry – Pray for our students, our planning, and all of the major and minor details.
---