March Madness.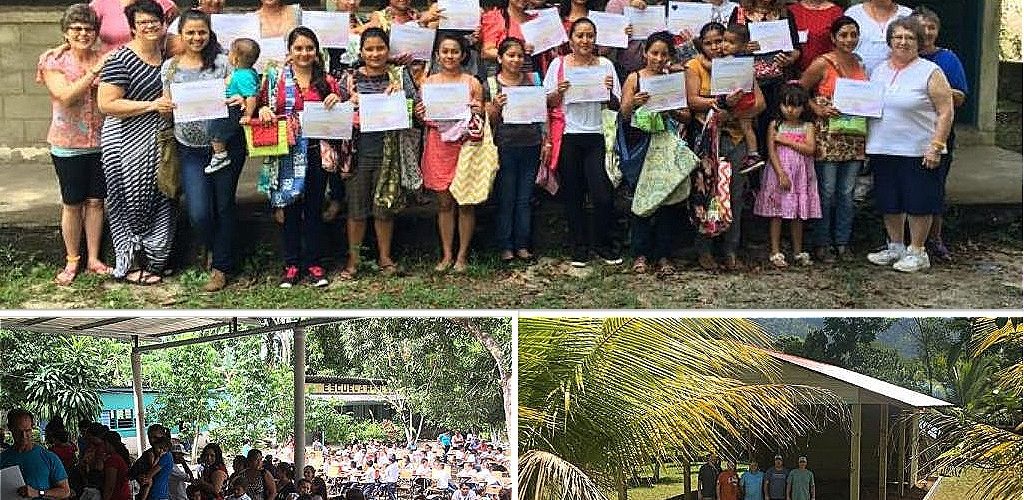 So we're just coming through that time of year for all us basketball fans right?  Born and raised in Kentucky and a graduate of the University of Kentucky myself, this time of year is always full of both excitement and disappointment as a fan of the game.  However, this year, the term "March Madness" has come to mean something entirely different altogether.  The difference being that the ups and downs we have seen in the past month have not been played out on a basketball court, but rather in our daily lives here in Santiago and in our family.  At the end of the day though, the key to survival remains the same in both scenarios.  Perseverance!
I am certain that anyone reading this right now can relate to the struggles we go through in life.  No matter what walk or stage of life you may be in, struggles and trials are inevitable.  I once heard someone say that each and every person in this world is in one of three categories.  You are either coming out of a trial, going through a trial, or getting ready to enter a trial.  That may sound like a pessimistic way of thinking, but, in reality, it is very true.  It is not a question of if you will face it, it's a question of when.  However, just like a good team has a number of guys that are always there to pick each other up and encourage them through everything, we can have the assurance of facing each trial we endure with the encouragement and help of the only person who will never let us down.  And He's got a track record to prove it!  That, is how we can persevere.
In Hebrews 10:32-34, we read an account of folks who were ridiculed, publicly exposed to insult and persecution, imprisoned, and even had their possessions confiscated and stolen in the early days of their faith.  But we also see that, through it all, they remained confident in their lasting treasure and promise.  And in verses 35 and 36 we see the call to persevere:
35 So do not throw away your confidence; it will be richly rewarded.  36 You need to persevere so that when you have done the will of God, you will receive what he has promised.
The writer here is basically telling these folks that, hey, you've seen it all before, and you need to be as sure now as you were then.  And the best part is the encouragement that, at the end of it all, our confidence in God's plan will be rewarded by seeing the fulfillment of the promise that He has given.  In short, persevere and watch God work.  He has not failed us in the past; He will not start now!
I mentioned earlier the craziness of this month.  So far, this month we have seen a house literally full of sick adults, babies and kids.  Heck, we even spread some of that to the Weeks' house (we believe in sharing here you know).  In addition to that, one of our vehicles spent about three weeks in a mechanic's shop culminating in a bill that exceeded the amount of money available to us at the time.  Once we got that vehicle back, one of the tires in our other vehicle had a blow out and we ultimately had to replace all four only to discover that two of the replacements were damaged and we had a flat in another.  And don't even get me started on the house repairs.  In short, a LOT of trials have been endured this month by our family.  However, this is nothing new to us, and, honestly, is likely nothing new to many of you.  Life is tough and some months it is almost too much to bear.
However, let's look at some other things that have happened this month.  Earlier this month, we were blessed with a team of ladies from Kentucky who came and kicked off a weekly sewing clinic for ladies in our community.  We had 25 ladies show up and have consistently had 15 or so every week since.  A medical team from the University of North Texas came and spent two days in our community providing much needed medical care.  Over 250 people received more medical consultation than many had ever received, and Roxanne will be following up with many of them as we open our onsite medical clinic very soon.  Just this past week, we had a team of guys from Virginia come and build a church/community center on our property that is beautiful!  Not only that, but they built a play area for our babies and helped finish a new room for one of our girls.  Oh yeah, and that whole car trouble thing, we saw God come through in amazing ways with all of that as well.  There are so many other amazing things God has done this month and is currently doing that it would be impossible to note them all in this post.
A few years ago, the old me would look at all the negative stuff that has happened this month and just thought, "what in the world am I doing wrong?!"  And, honestly, there is always that brief moment when you get the big car bill that still causes me to want to get caught up in the question of "Why?"  But, at the end of the day, I have seen God do incredible things throughout the past couple years. Things that have caused me to look back on my entire life with a different perspective and see, not all the bad things that we have endured, but, rather, how God has shown His love and faithfulness to us through it all.  And THAT is what has taught me, more than anything, the meaning of perseverance.  The fact that I don't have to rely on myself, who has proven many times he can let me down, but that I can rely on God, who will never let me down and will always have my back, to help me weather the storm.  This is not prosperity gospel, it is just an assurance that I never have to go it alone and He will always be there with me.  THAT causes me to persevere!
I encourage you as you enter that trial, endure that trial, or come out of that trial to always remember the faithfulness and provision of God through the trials of the past.  Not only your past, but the past of those you walk beside daily in this life as well.  It's never fun, but it's always easier than it would be if you had to walk through it alone.  I particularly love the last few verses of Hebrews 10 that read:
38 And,

"But my righteous one will live by faith.
And I take no pleasure
in the one who shrinks back."

39 But we do not belong to those who shrink back and are destroyed, but to those who have faith and are saved.
 A famous saying during the NCAA tournament is "survive and advance".  Interestingly enough, The Message translation of verse 39 actually reads "But we're not quitters who lose out. Oh, no! We'll stay with it and survive, trusting all the way."  Sounds pretty encouraging, huh?  We are not quitters, we are not part of those who shrink back.  No, we stick with it.  We remember the countless number of times in the past that God has revealed Himself through our struggles time and time again.  We count our blessings and not our pains.  We hold tight to the promise of His presence and rest in that truth.  In short, we do the only thing we can do, and we do it with confidence that God is in control…by faith we persevere, we survive and advance!
God bless,
Eric