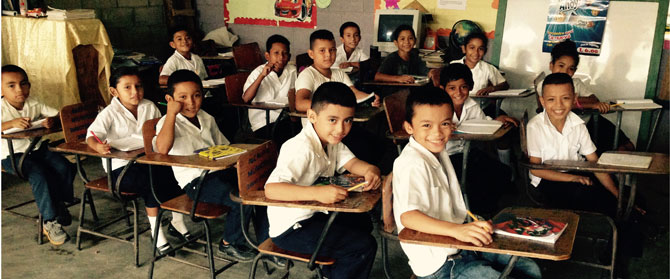 28 Dec

Where We Lack, He Provides

Tomorrow marks one year since Chris and I moved to Honduras. In some ways, I can't believe it has already been a year. In other ways, it has felt so much longer. Reflecting back, I am so amazed at all that God has done in and through us. I could go on and on about all that God has used us for, but there is no way for me to explain to you all that He has done in our hearts. He has put us in situations and led us through circumstances that have forever changed us; he has taught me things about myself that I never knew and opened my eyes to what it means to die to myself, to strive for humility, and truly rely on Him.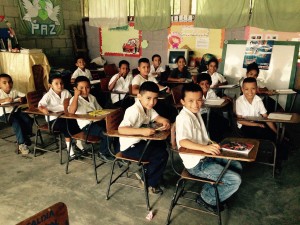 One of the experiences that has taught us this most recently has been our English classes. In early October, we decided that an awesome way to reach out to the community around us at the Sparrow Missions Children's Home would be to begin teaching English.  Eric spoke with the local school down the road about it, and they were thrilled at the idea of having a gringo (an american) come and teach English a few days a week! And just like that, English classes began in Santiago. I can't lie, I was pretty excited about it, but my excitement paled in comparison to the response we received. Two days after the school said they would like me to begin teaching, before I had even had my first class, a group of three little girls came up to the fence on our property to talk. They were from another public school and had already heard that the gringa (american woman) was going to be giving free English classes, and they wanted to know if there was a way they could take classes too. So we decided to have Saturday morning English classes for this little group of girls. That Saturday, when I went to the gate, there were five kids there waiting. We had an amazing first class, and they were so excited to learn. After class, they stayed and played soccer and Barbie dolls, and Chris taught some of them how to play American football. The next Saturday, I walked to the gate hoping they would all come back and that they would still be excited about learning. When I got to the gate, there were 22 kids there, not including some moms who also wanted to learn. I was so amazed, especially when I learned that some of them were walking over an hour from the mountains just to get here! We  learned a lot of English, and we began some friendships that I truly believe God is going to use in mighty ways. As if that weren't crazy enough, the next Saturday, 36 kids and 6 moms showed up for classes, and of all of the chairs on all of the property, we didn't have enough. But we had class anyway! And it was amazing!
It's awesome how God keeps showing us that when we are lacking in something, it's not a bad thing. It's an opportunity to allow God to provide for us in a new way. Because we didn't have enough chairs that week, Chris worked with the men at Ministerio Vida in Tela to make benches for our class. Our class was provided for, but also, God used this situation for Chris to be able to work with these men and teach them new skills and talk about more projects for skills based learning in the future! God can do amazing things in our lives when we step back and let him have the control!
We now have Saturday classes for the community, Wednesday night classes for adults, and in February, I will be teaching three days a week in one public school and two days a week in another public school. These classes have grown tremendously, and I can't wait to see the ways God will use them to make an impact for His Kingdom!
We have learned so much over the last year about allowing God to be in control of our lives and of the mission here! Please continue to be in prayer for us and for the SMCH as a whole as we accept children into our home and continue with English classes and community outreach. Pray that God continues to lead us and guide us, and that we continue to learn more about what it means to follow Him in caring for the children He places in our care!
To God be the glory!
Alisha Weeks