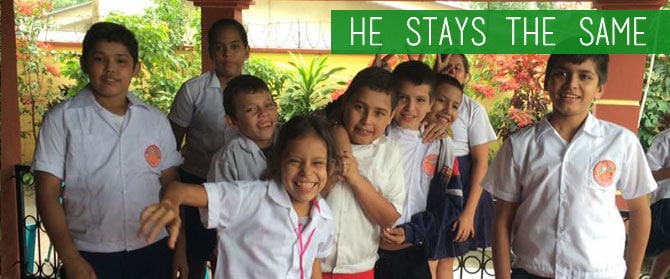 15 Feb

He Stays The Same

Two weeks ago, the Sparrow Academy opened its doors to 85 students, with the desire to provide an opportunity for spiritual growth in the Lord and a better education with teachers that were trained to give them the best they deserve.  Sounds like an awesome plan with nothing to worry about, right? Well, the truth is, God really likes to challenge and sharpen us as we keep working for him and only him.

With that being said, let me tell you what has happened over the past three or four weeks and how God has been teaching me.  It started just a week or so before we were set to start school.  We received a call from one of our families in the Bordos, who had been told by the police that they were going to be kicked off the land.  The police had made this threat many times, so at first I didn't give it much thought.  But, the more we learned, the more it appeared real.  My heart sank and fear began to rule my thoughts.  I was confused and afraid of being separated from our families or seeing this vision of giving their kids the things they so deserved disappear.  I began to question everything we had been doing.

"God, this is your plan to open the Academy, right?  It's your kids we have been working so hard for.  You have provided miraculously and delivered everything, but now they are taking the kids and families away??"

God's response spoke to the condition of my own heart and thoughts.  My heart had become a bit too comfortable.   While I knew the Academy was God's plan, I had naïvely assumed that NOTHING WOULD GO WRONG along the way.  I was WRONG about that.  Of course the enemy was at work.  He is always at work trying to destroy where love and peace are being built.

God also blessed our organization with a group of people who are not only a team, but a family.   We are in this together and we often talk, cry, and pray through days we just don't understand.  With my fear, God used a testimony from Justin to remind me that none of this was because of us.  "Seven years ago, people told me it would be foolish to establish long term ministry in the Bordos because they would be kicked out very soon. But here we are years later.  We are here because God is here and we have seen amazing things happen because of Him.  He goes before us and He is not fearful of any of this." Justin's testimony reminded me of the following verse,
"For I am the LORD, I DO NOT CHANGE; therefore you are not consumed."  Malachi 3:6
What a consolation it is that our God never changes! What He was yesterday, He is today. What we find in Him today, we shall find in Him forever.  All of this served to really change my perspective. I was reminded it is God who performs all things for us and we only need to rest in Him. Now I look back over the first two weeks of classes and it feels like the kids have been in this school for much longer. In just a short period of time, our hearts are happy as we have watched our kids settle in and embrace this opportunity.   We have also been humbled to watch our teachers love and invest in our kids.  And watching our students interact with their teachers has confirmed that we have the exact teachers God wanted us to have.   Just last week, a few of our boys (Jose Alfredo, Dani, and Gustavo) were heard saying that their teacher "loved them and was going to teach them what they didn't know!" Our students, who have often been rejected, are now accepted and believe the Academy is THEIR school!  I may not see the whole picture of what God has planned, but man I get to see these little glimpses every day and it is such a blessing.
I really have no words to describe how amazing it is to witness the Sparrow Academy. Believe me, it's not always easy.  There are some days that aren't long enough and some that are too long.  There was even one day where we found ourselves at a local hospital! BUT, it is worth it and I'm humbled to be part of this awesome experience. The best part is the daily reminder of how our Savior is the one who is going before us and He is going to take care of us regardless. A good example is when one of the kids gets in trouble and they are forced to come to the office.  As I open the door, the crying begins, but by the end of our time together, they leave hugging and kissing me as they understood the consequences.  We can find ourselves in a similar situation sometimes.  We begin freaking out about something or an unknown, but in the end God has our backs and we can live freely in his loving embrace!
"For I, the LORD your God, hold your right hand; it is I who say to you, Fear not, I am the one who helps you". Isaiah 41:13
God Bless, Elena