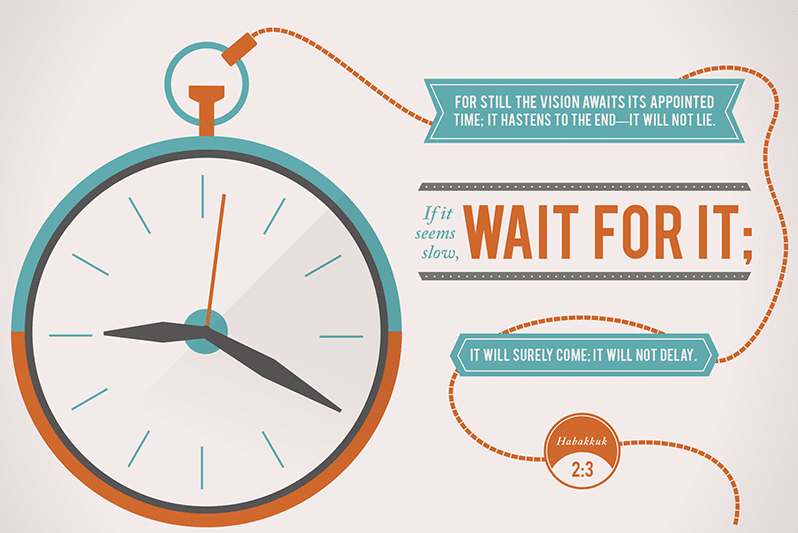 03 Jul

Wait for it!

Waiting.  Not something that we typically enjoy doing as normal, living, breathing human beings, right?!  As a people, society, culture, or whatever, we are just people who want what we want and we want it now!  We see it in Honduras, and we certainly see it in the USA as well.  It knows no geographical, political, racial or socioeconomic boundaries.  It is just ingrained in us as a species to be impatient, but God ultimately wants us to be different as a people.  His clock is obviously different than ours, and life can become frustrating if we never learn the spiritual discipline of just waiting!

As you read this post, I am on my journey back to Honduras after a nearly month long sabbatical to the USA.  Throughout the course of this visit, I was able to spend time with many friends, family members, churches and VBS groups simply talking about what God has done and is doing through the Children's Home and our work in the community as well.  It is, first of all, overwhelming and awe-inspiring to me to even talk about these things because as I speak of them, I am reminded how God perfectly orchestrates the workings of our lives in such a way that things happen at just the right time and in just the right way.  And He does so in ways that we can only give Him total credit because we know in our minds there is no way we possibly could have planned things better.  It doesn't mean we don't get anxious or nervous as we wait upon Him, but it does show that ultimately His plans are perfect.  Let me share some examples of this with you.  Spoiler alert!!  Some of these testimonies you may know from hearing me speak and some will be breaking news for the SMCH, but all speak to God's incredible timing and plan.

When we first moved to the property in Santiago in January of 2015, we knew there were two schools in our community, and I began praying about how God would have us connect with those schools.  As I continued to pray and seek His direction, God literally brought the school to us.  One day the principal, a teacher and the handyman showed up knocking on our gate and asked for our help with a project they were working on.  Fast forward about year later and Alishia began teaching English in that school and news passed to the other school in our community and suddenly we were active in both.  God did that – in His time!

Over a year ago, Roxanne mentioned to me that she felt it would be awesome to begin a sewing clinic for ladies in our community.  We began praying.  Without knowing this, a good friend of ours who is a seamstress approached us one Sunday night on our last US visit and asked if there was any way God could use her sewing knowledge and expertise to help our community.  Less than a year later, in February of this year, she came to Santiago with seven other amazing ladies to kick off a sewing clinic that we now have on site every week that is impacting the lives of ladies in our community.  Now there is another group of ladies from the US that has connected with them as well to further encourage them.  Again, we could not have orchestrated this much detail in as perfect of a manner.  God did that – in His time!

Early on after we took in our first children in 2015, we felt the need for a staff member that would live on site and serve as more than just a nanny or supplementary childcare, but as part of the families.  We called this position a Tía, or "aunt".  Someone who our children would view as part of the family which would help out when our house families needed to step away for whatever reason, and be a vital part of our ministry in the community as well.  Earlier this year, we met a young lady named Leah Gruneisen who was serving as one of the nursery workers at a missionary conference and spent a lot of time with our babies as such.  A few hours after leaving the conference, she messaged me about what it look like if someone were to come work for our ministry.  I described the vision of the Tía and she immediately responded that it was something she was definitely interested in doing.  We are super excited to be welcoming Leah on staff at the SMCH in an official capacity as our very first Tía, and we can't wait to see how God is going to use her going forward.  God, again, did that – in His time!

We were blessed early on with Chris and Alishia Weeks as our first house parents at the SMCH, and have been praying continuously from the time we opened the doors at the SMCH for God to lead us to more house parents in the future.  This past Christmas Day, we were visited by a teacher from the language school we all attended along with a friend of his and his family.  We began talking about our vision and our work, and the couple began asking more questions.  By the end of the conversation, they were asking how they could help and possibly work with us as a house family.  After several months of getting to know them and both families praying, we are happy to welcome this amazing family as house parents in our second home.  We will announce more about this as their move approaches, but this man grew up in an orphanage in San Pedro Sula and his wife was raised by her Aunt.  So they both possess a firsthand knowledge of what life is like for an orphan and foster child being raised by family not of their own blood.  Amazing, godly people that we would never have met had God not literally brought them to our doorstep.  He did that – in His time!

I could go on, but the point of all of these testimonies, and so many others, is that we can never make God's will happen.  If we rush it, we may miss it.  We have to wait.  Habakkuk 2:3 says:
 "For still the vision awaits its appointed time; it hastens to the end—it will not lie. If it seems slow, wait for it; it will surely come; it will not delay. (ESV)"
Habakkuk had just finished complaining about injustices to God and the reply that God gives is basically that His judgment will come about at the appointed time, and even though it may not happen right away, it will come about.  So, God's response – just wait!  And that's the same response He is still giving all of us today in whatever situation you are going through or for whatever need you have been praying.
The waiting is not a bad thing.  It teaches us patience.  It reminds us to constantly be in prayer and seeking God's direction.  It teaches us to be watchful for the moment that the answer comes.  At least that is what we have learned through this season in our lives.  Waiting is never easy and sometimes can be frustrating and, to the world around us, appear futile.  However, in so doing, it allows us the opportunity to watch God amaze us at His impeccable timing and ability to do something that we ourselves could never do, and to give Him the glory as others see what transpires and as we share what He has done.  So, enjoy the waiting and find God's peace within it.  At the end of the day, it will always be better than you ever imagined.  He will do that – in His time!!
Eric