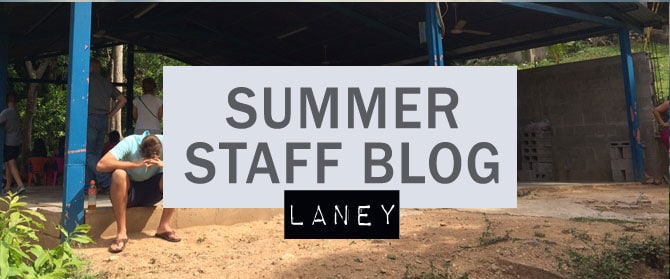 12 Sep

The power of relationships.

I want to start my post by saying that this summer was truly one for the books. Although it had many challenges, I saw the work God is doing in our ministries unfold every day before my eyes. It was incredibly rewarding for me to be a part of something so supernaturally wonderful for the month and a half I was able to be there. With that being said, the summer was also incredibly difficult for me in many different ways. I felt lonely at times, exhausted beyond belief, and there were moments when I felt like my being there was no benefit to anyone. These difficult times were the times I asked myself and I asked the Lord questions like "Why am I here?", "What can I do?", and even "What good am I?". God used the people around me to show me my purpose this summer – building relationships.

Sparrow is unlike other missions organizations. When people hear "mission trip" it can be easy for their minds to go straight to the practical – building houses, providing medical attention, giving people things like clothes or hygiene supplies. These are all wonderful ways to serve and to advance the kingdom, without a doubt, but I've found that it can sometimes become easy to lose ourselves in practicality and omit personality. The personality of missions is what Sparrow is all about, building trust and friendships with people that serve to show them the love of Jesus in a personal way. I had to realize this summer that sometimes it's more important to sit down and talk to someone than it is to do anything else for them.

As a person, I am not social. I do not always want to talk to people or even interact with people. I struggle to open up, and to let people see my heart. The Lord showed me that none of that is an excuse to not fulfill my purpose. I am here, whether in Honduras or in America, to give myself to people in ways I might not want to. To let people in, to love them without the promise of them loving me in return. Because, ultimately, that's what Jesus came to this Earth to do. He loved us so much, so sacrificially, that he died for us on a cross, knowing full well that most of us would never love him in return. If Jesus can do that for me, then why can't I do that for people? Can I sacrifice myself, my comfort and my security, and passionately pursue people with the love that Jesus has given me?

Mark 12:30-31 says:
"30 Love the Lord your God with all your heart and with all your soul and with all your mind and with all your strength.'31 The second is this: 'Love your neighbor as yourself.' There is no commandment greater than these."
Thankfully, God was not finished with me this summer, and thankfully he is never finished with me. He brought people into my path this summer that changed my view of purpose. I have been so blessed by the relationships I've made in Honduras. My heart is so full, and I have never felt more loved than when I am with my Honduran friends.
I specifically want to mention my friends in the Bordos; Jeidy Pereira, a girl that I see myself in. I love you more than words can express. Rolan Madrid, thank you for being my greatest friend and encouraging me always. All my youth group boys, I love you all so much and you know that. My friends Claudia and Wendy, thank you for opening me up this summer. To my translator friends, Karely, Sara, Isabel, Daniel, and Ms. Lul, I love you all deeply and I'm thankful for the connections I have with all of you. And finally, to my friendterns, I love you all so very much and I was so blessed by you all this summer. I haven't been a perfect friend to all of you, but by God's grace I'll get to keep pursuing the friendships He's created in my life for years to come.
God bless, and have a great week!
Laney Glover