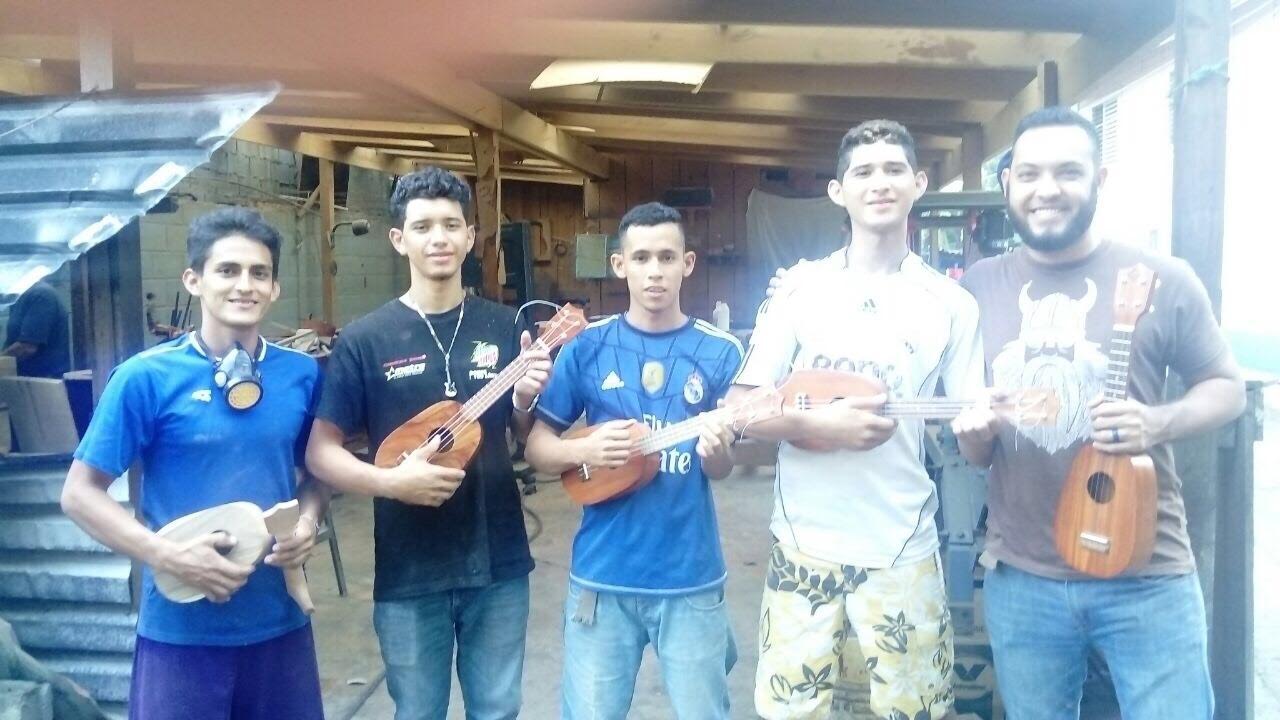 07 Nov

Strum It Forward

Strum It Forward – India

On December 12th in the year of our Lord 2015 I posted a simple picture on the Sparrow Missions Instagram page.  It wasn't a big deal.  It was simply one of our newest ukuleles from the carpentry workshop that we run at Ministerio Vida Rehabilitation Center.  When I saw the work that David Parkinson, Cristian, a few of the young men from the bordos community and Reynaldo had made I knew that it had to be celebrated.  Now I'm not one to frivolously post on social media, but I saw this beautiful uke and had to share it.

Little did I know at the time that this simple Instagram post would lead us down a path to working in one of the least reached areas in our world.  An area with a population of 125,000 people and fewer than 25 known followers of Jesus.  Bhiwadi, Rajashtan, India.  Let me back up…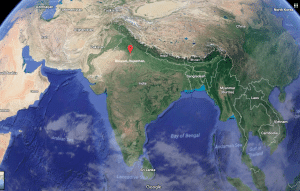 In 1993 on my first mission trip I first heard about the unreached and the least reached people of the world.  It burned in my heart that in our day and age how there could be entire communities of people in the world who have never heard the name of Jesus, much less have they interacted with a believer who could share the beautiful Gospel of our precious Savior.  That desire never left me.  My darling wife knows better than anyone that I have been drawn to this part of the world.  At times, I've wondered why God would call me to Honduras when He knows that both Ash and I are both open to the unreached. It's now becoming clearer by the day.
Sidebar:  Let's take a moment here and recognize why these people of the world are not reached.  Why would 42% of the world be unreached? ("unreached" is defined as group refers to an ethnic group without an indigenous, self-propagating Christian church movement. Any ethnic or ethnolinguistic nation without enough Christians to evangelize the rest of the people is an "unreached people group" or any people that are less than 2% evangelical Christian).
They are deeply rooted in ancient false religions. (Hinduism, Islam, Buddhism)
There is active persecution.
The cultural distance and language barriers take a years to learn.
It's far more costly.
Back to the Instagram post – Within days of the ukulele social media post on Dec 12, 2015 I get a call from a good friend and ministry partner Jeremy Isom.  He is the Executive Director of a great org called LEAP International.  He calls me out of the blue a few days later and starts the conversation with, "this is going to sound crazy…"  So many great things start out sounding crazy. (basically anything that requires faith does)  He had received a message from a man name Anand in India.  Jeremy knew Anand from a past trip to India.  Anand asked if it would be possible to send someone to India to train their young men how to make ukuleles like the one in the picture and disciple young people from the villages where Jesus is not known.  What do you say?  Speechless.
Right away the "crazy" idea doesn't sound so crazy.  You see from our first steps into ministry in to the incredible country of Honduras our dream has to give people Jesus and to see them become healthy disciples of Jesus.  God has done that in many ways. We have a group of young men who have been discipled by Cristian Lopez in a very active and personal way.  They are mature and godly young men.  So after prayer and a conversation with Poyte, Irvin, Angel, and Victor, they agreed and it began.  Two things needed to happen.
They had to be experts at making ukuleles
They needed to learn English to communicate in India. (Many Indians speak English).
Within weeks we created a daily apprenticeship at the carpentry workshop for them.  They began studying English on a very high level so that they could communicate well in India. These young men have worked hard and can now make beautiful Ukuleles and are very close to being fluent in English with the intention of becoming missionaries from Honduras to India.
The next step was a setup visit to meet Anand and his son Joy.  We needed to see where they would live and work.   So several weeks ago a group of Sparrow staff and LEAP traveled to New Delhi, India to do just that. The trip confirmed that God is in this.  Anand and Joy love are passionate about reaching the unreached with the name of Jesus.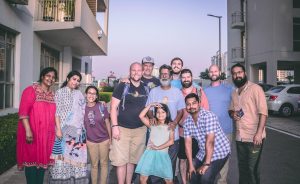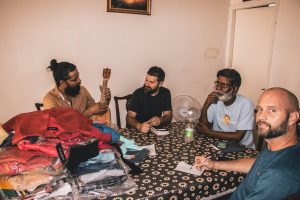 These young men will be moving to India for at least 3 – 4 months in the early spring to begin training young men like themselves on how to build ukes all the while sharing Jesus and making disciples.  They will be part of an underground house church in Bhiwadi, India.  Only God knows what amazing things will come of this.  Only God knows how they will each be funded.  Each young man will need $3,000 for the flight and living expenses for India.  Thankfully one church in KY is already on board to adopt one of these young missionaries.
The dream of strumitforward is to see these workshops spread.  As this carpentry workshop grows in India they will send out a group of disciples to the next place just as we will continue to do so from Honduras.  It will continue to grow throughout the world in a "pay it forward" action.  #strumitfoward.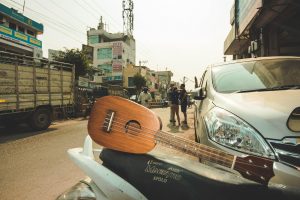 As I post this I know that many of you have seen videos of us in India eating fire or running the run4the1. I bring you in now because it's time to pray.
Pray for the people the young men will interact with in India
Pray that God will prepare Poyte, Irvin, Victor, and Angel.
Pray that disciples are made in India.
Pray for God to provide all of the support that they need.
But not least, the unreached of this world. Luke 10:2,3 He told them, "The harvest is plentiful, but the workers are few. Ask the Lord of the harvest, therefore, to send out workers into his harvest field. 3 Go! I am sending you out like lambs among wolves.
 In 1993, I could have never guessed that God would allow me to have a small part in the early stages of a mission to India and the unreached, but I'm thankful that He lets me be involved.  If you would like to get involved in this project don't hesitate to email me.  justin@sparrowmissions.com
For more information on the unreached peoples of the world please go to joshuaproject.net.