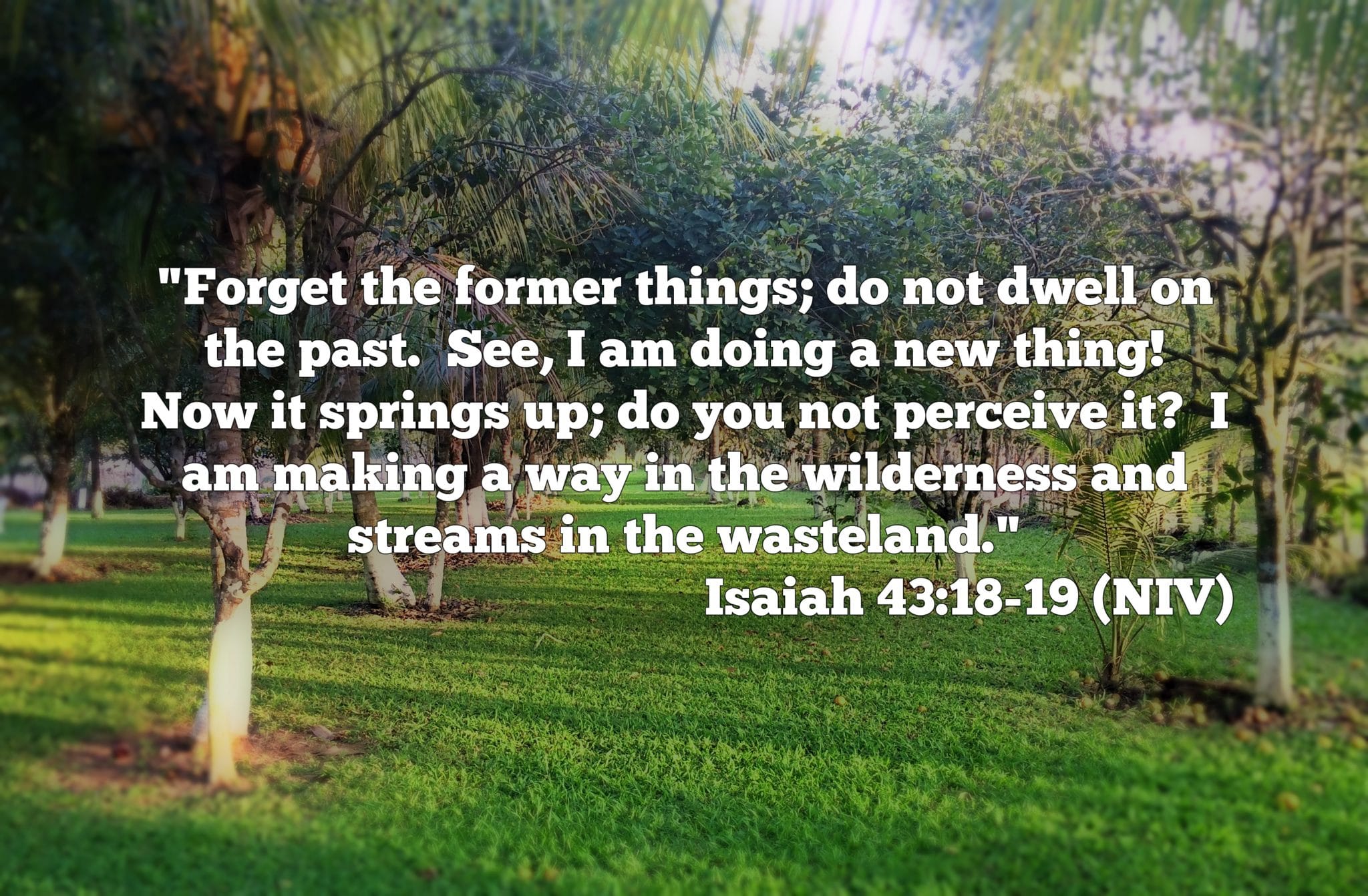 30 Jul

You Ain't Seen Nothing Yet!

This has been a year of many changes at the Sparrow Village.  Change of name, renewed vision and mission, new staff members, departing family members, etc.  In light of all that has transpired over the first 7 months of this year, I was reminded the other day, through a daily devotion, about a passage I shared with our families here around the first of the year that became our theme verse for 2018 at the Sparrow Village (which was at that time the Sparrow Children's Home).  That passage was Isaiah 43:18-19 which states:  "Forget the former things; do not dwell on the past.  See, I am doing a new thing!  Now it springs up; do you not perceive it?  I am making a way in the wilderness and streams in the wasteland."

How often do we get stuck dwelling on things that have happened in the past?  Good or bad.  And so many times we miss what God is trying to do now, today, because either we want to bask in the victories we have enjoyed, or continually beat ourselves up over perceived failures.  It's interesting in this part of Isaiah that God talks about forgetting the past right after He has finished reminding the children of Israel of all He had done for them including the parting of the Red Sea.  So the message here is not that the things He has done for us in the past are unimportant, but instead I believe God is urging us not to confine Him just to the things that He's already done.  How incredible it is for us to know that God is continually telling us to keep our eyes pressed forward because something new, something big, is springing up in front of us each day.  And if we're not careful, we might miss it.  Because, in all honesty, when God says He is going to do a new thing, the truth is that He is already in the process of doing it…He's just giving us a chance to join in!

In June, we became the Sparrow Village.  Along with that came a renewed vision and mission for our ministry.  As Roxanne and I began to individually and collectively pray and seek God's direction, He was continually stressing three themes to us:  Rescue, Health, and Jesus.  The rescue part was something we were already doing through the houses and families on site, but the difference was the sense of urgency that we felt God stressing to us.  Two houses and seven foster children are great, but we know He can use us and this property to rescue more.  Now, recruiting and finding foster parents willing to pack up and move to a rural area of Honduras is not necessarily an easy task, but God tells us that he will make a way in the wilderness.  So even though I can't see it or even fathom how it will happen, I can have confidence that He already knows and is already working.

Another thing we want to do is use the gifts and wisdom that God has given Roxanne to help with this idea of improving the health of families in the communities around us.  We began ask God how He could use the Sparrow Village to encourage parents and families and help preserve family unity as much as possible in our area.  We believe He showed us that the answer lies in education and discipleship.  Part of that means working with expectant mothers in our community and the areas around us.  Additionally, Roxanne will be traveling to Dallas in October to receive further training on helping families with children who have experienced trauma.  She has felt God leading her to go through this training for some time now in order to equip the people who care for these children (parents, caregivers, teachers, medical professionals, social workers) with the knowledge and tools needed to help them heal and maneuver in the world despite what trauma has done to them physically and emotionally.  In the past, the cost of the training has always kept us from signing her up in the past, but we knew we needed to trust God for this.  In faith, she went ahead and signed up for the classes this Fall.  Just as a testimony to how God again made a way in the wilderness, she received a $2000 scholarship and we also received a few donations while we were in the US recently.  As of last week, we were about $800 short of what was needed.  We posted a separate donation request last week for a new generator as ours had stopped working.  We asked for $900.  By the end of the day, God had brought in $1700 for the generator.  Now, I'll let you do the math there, but suffice to say that God not only provided for that need but He also answered the need for additional money for the training as well.  He made a way.

The last part of our mission is to simply let folks know that Jesus is the source of healing for every struggle in our lives.  Whether we are working with our foster children, the folks in our community, or one of the other ministries that we are connected to, we will be failing if we do not point those we encounter directly to the One who can bring healing in their lives.  One way we plan to do this is by very soon starting a weekly Bible study for folks in our community on Sunday afternoons.  There are many people just in our neighboring community that have been seemingly cast out from the church and are hungry for fellowship, discipleship, and the opportunity themselves to serve.  Call it a small group, call it a church, or call it whatever, it will be a family of people striving to grow stronger in our walk with God together.  Even now, we believe God is making a way for this to happen.

For all of us, there is a wilderness or desert standing before us and the new thing that God has set out for our lives.  So how will you respond?  Will you be caught dwelling on the past and completely miss the new thing that God has laid out for you, or will you "perceive", or "embrace", that calling and let Him make a way?  What is the wilderness in your life?  The only thing I can say with confidence is that God will always make a way and that He will provide those streams we need for strength and to sustain us along the journey.  That's what He promised after all, right?

Maybe taking a new road the Lord puts before you means doing something that scares you rather than the safe and expected alternative.  Maybe it means stepping out of those comfort zones and letting God be glorified through your weaknesses.  Regardless, He is calling us to open our eyes and see that "new thing" that He is doing and join Him in it.  He will make a way because He alone is the Way.  By taking heed to Isaiah 43:18-19, we will always be ready for whatever comes next.  As a result, we can rest in the knowledge of three things.  That God has done some pretty great things.  That He is just getting started.  And, finally, that you ain't seen nothing yet!