His Way is Perfect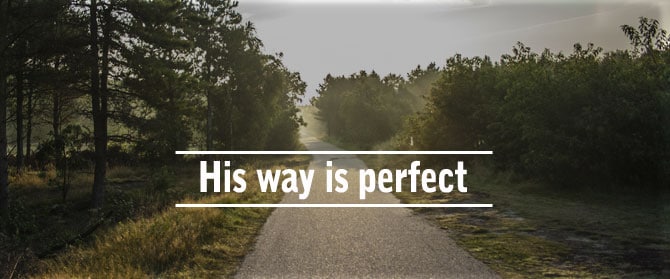 His way is perfect.
When He says yes, when He says no, and when He says wait, when we can see what He's doing and when we don't understand.
A few weeks ago, Lesbi and I taught a lesson on Jeremiah 32 in one of our discipleship classes. In our discussion, something one of the girls pointed out was the example of the obedience of Jeremiah.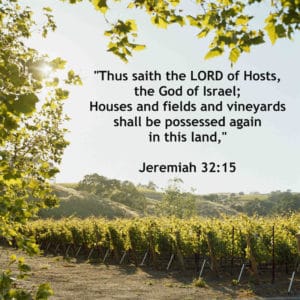 In this passage, Jeremiah has been imprisoned by the king of Judah for prophesying "(3)Behold, I am giving this city into the hand of the king of Babylon, and he shall capture it ……(5)though you fight against the Chaldeans, you shall not succeed."
The Babylonian army laid siege on Jerusalem, and in the midst of this chaos, the word of the Lord comes to Jeremiah again, telling him to buy a field, with witnesses, deeds of purchase, the whole formal nine yards. And so he obeys and does exactly what God tells him to do, again prophesying, (15)"For thus says the Lord of hosts, the God of Israel: Houses and fields and vineyards shall again be bought in this land."
The next part begins with Jeremiah praying. He starts off with this: (17)"'Ah, Lord God! It is you who have made the heavens and the earth by your great power and by your outstretched arm! Nothing is too hard for you."
He continues praising God, recounting all the works He has done, worshipping the Lord in His faithfulness. But at the end of this prayer, Jeremiah says this: (25) "Yet you, O Lord God, have said to me, 'Buy the field for money and get witnesses' –though the city is given into the hands of the Chaldeans."
Jeremiah is a prophet, he receives the words of the Lord and prophesizes, things that are in the future, things that he has not seen come to pass. This is his life. But right now, he has a little bit of doubt. God asks him to buy a field, saying houses and fields and vineyards will again be bought, right after saying that He's going to hand that land over to the Chaldeans.
What? Seems a little confusing to me and this prayer shows that Jeremiah didn't understand everything about it either. I would ask the same questions.
What's going on here?
First you told me this, now you've told me to buy a field during a siege and a war with the Chaldeans, that you've told me we are going to lose.
What are you doing?
But even though he may have had those questions, even though he didn't understand, Jeremiah still walked in obedience and he still glorified God. He had witnessed the faithfulness of God in many many things and he knew that God could do anything.
I love his prayer in verses 17-25 because it shows him being human. He knew God is good, that He is faithful, and that He had done marvelous works. But it was chaos, things were falling apart, they were being defeated by another power and he didn't understand.
And then, God's response:
(27)"Behold, I am the Lord, the God of all flesh. Is anything too hard for me?"
IS anything too hard for our God?
God presents the rhetorical question, more so asking Jeremiah if he really believes that He can do anything.  God continues, telling Jeremiah that the Chaldeans are going to destroy the city of Jerusalem and with it all of the sinful things Israel had been practicing.
He continues:
(37)"I will bring them back to this place, and I will make them dwell in safety. (38) And they shall be my people, and I will be their God. (39)I will give them one heart and one way that they may fear me forever, for their own good and the good of their children after them. (40)I will make with them an everlasting covenant, that I will not turn away from doing good to them. And I will put the fear of me in their hearts, that they may not turn from me. (41) I will rejoice in doing them good, and I will plant them in this land in faithfulness, with all my heart and all my soul. (42) "For thus says the Lord: Just as I have brought all this great disaster upon this people, so I will bring upon them all the good that I promise them. (43) Fields shall be bought in this land of which you are saying, 'It is a desolation, without man or beast; it is given into the hand of the Chaldeans.' (44) Fields shall be bought for money, and deeds shall be signed and sealed and witnessed, in the land of Benjamin, in the places about Jerusalem, and in the cities of Judah, in the cities of the hill country, in the cities of the Shephelah, and in the cities of the Negeb; for I will restore their fortunes, declares the Lord."
God lets Jeremiah in on what He was doing. He spoke of His everlasting covenant and the promises he made to Israel. He says, "Hey, I know it seems crazy but look at this. Look how I'm going to use this to bring the children of Israel back to be my people!" He paints his redemptive story.
But, oftentimes we don't get to see that far into the future. We just get the "buy-a-field" part. Even though we don't get the big picture, our response should still be found in the example of Jeremiah: obey and worship. It's also important to remember that walking in obedience doesn't mean we understand everything. It's okay to not understand, it's okay to ask God, "What are you doing?" But we can know that "Nothing is too hard for Him [you]."
Jeremiah's example of obedience and then praising, even when he doesn't understand has been something that God has been putting on my heart recently. Obeying is not easy; I can attest to that. When you can't see fruit, when the plans change, when God closes a door, and when it seems like nothing is happening, walking in obedience maybe isn't the first thing in mind. But, I've been challenged to obey and then worship the God whose way IS perfect, the God for whom NOTHING is too hard, the Faithful One who is ALWAYS working out His beautiful plan of redemption.