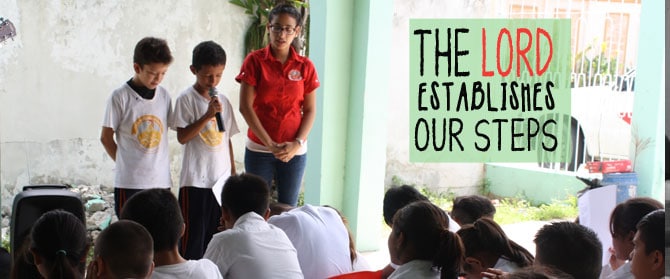 08 Aug

The Lord Establishes Our steps
"For I know the plans I have for you," declares The Lord, "plans to prosper you and not to harm you, plans to give you a hope and future."   — Jeremiah 29:11
The funny, but not always fun, thing about following God is that even when you think you have your plans in order, He mixes it up and shows you truly how much better His are.  These past two months have been full of change within the Sparrow family of ministries.  One place that seems ever-changing is the Sparrow Academy. A couple months ago we found ourselves in a position of transition, we were notified that we needed to move out of the community we were in.  I was honestly overwhelmed by the fact that we had to move the WHOLE school… for those of you who are teachers, you understand what I'm saying.  My head was filled with thoughts of worry,
"How long will it take to find a new building?
 "How many days of classes will the children miss?"
 "It's our responsibility to provide the kids an education, we must get this chaos back into order." 
Immediately, Justin, Dean, Cris, and I, each started looking for new buildings or houses that we could move the Academy into.  In just a few days, we found a building that would be perfect.   We began to pray for the building and started to envision the ministry that could happen within its walls.  We spoke with the owner and shortly thereafter we had a new spot!  Or so we thought….
Then, a week before the move, the owner reached out to let us know he had changed his plan.  The building we had our hearts set on and had already made plans for was no longer available.  Those words began to sink in…..
No longer available.
Personally, I went into what you might call a frenzy.  We had spent too much time praying!  We had found an incredible building!  Our plans seemed perfect!  Why were they already changing?
BUT, just like He promises in Jeremiah, His ways are there to prosper us.  We headed out that same afternoon and God led us to the place we call home today.  It's a building that has exceeded our expectations, proving more space, a welcoming neighborhood, and the opportunity to grow and expand the vision that God has given us.  I was blown away with the fact that it took God an afternoon to change our plans and give us his.
The heart of man plans his way; but The Lord establishes our steps.  — Proverbs 16:9
Even in my own life, I find myself feeling like I have to have it all figured out. It's as if I am trying to get an "A" on my report card with God by organizing and controlling everything within the school.  But, the Holy Spirit has really been convicting me of my lack of knowledge and the fact that not having all the answers doesn't transfer as an "F" on any "report card."  My position within Sparrow has undergone plenty of change. I have been called and given the opportunity to be the principal of the Academy and it's been such a humbling time.  In the beginning, I had no idea how I was going fill the shoes and handle the responsibilities of being a principal.  But, the Lord has been challenging me to set aside my pride and humbling me as I find myself learning how to lead a school from my own staff.  Long story short, God is sovereign over all we do.  Even when we are filled with worry.  Or find ourselves in a frenzy.  Or when we thing we have it all together.  Or even in those times when things are falling apart and we have no visible idea what is going on.
I am learning every day that He doesn't call the equipped, but rather He will equip those He calls.  I am learning to cling to Him, especially in those areas I am week.  I know He has called me to this place and without a doubt He will continue to work and change our plans so we can join alongside the greatness of His plan!
God Bless!  Elena