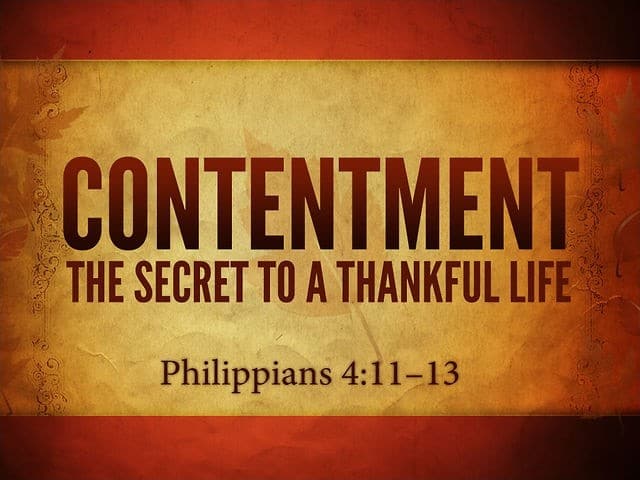 29 May

Contentment=live for Him today
"I know what it is to be in need, and I know what it is to have plenty. I have learned the secret of being content in any and every situation, whether well fed or hungry, whether living in plenty or in want. I can do all this through him who gives me strength." Philippians 4:12-13
I can wish my life away far too easily. For example, I can say statements like, "When I get married", "When our family is complete", "When the kids get older", "When we have enough money to (fill in the blank)", and before I know it, I've missed out on a large portion of my life. There are a few times in my life where I now know I was not enjoying the life God gave me because I felt like I needed Him to give me something else in order to be happy. Your "When I" statements may be different, such as, "When I go to college", "When I get a promotion", or "When I (you fill in the blank)". So, what do we do when life doesn't go exactly like we wanted? There are four things God has shown me I can do when I want something He doesn't want me to have.
Be patient – Just because you didn't get a "yes" today, doesn't mean you won't get one tomorrow. God's timing is definitely not our timing (2 Peter 3:9). I have learned some wonderful lessons while waiting for God. Interestingly, my best lessons have come while I waited for God to give me something He never actually gave me.

Hebrews 10:36 "You need to persevere so that when you have done the will of God, you will receive what he has promised."
Galatians 6:9 "Let us not become wearing in doing good, for at the proper time we will reap a harvest if we do not give up."
Read God's word and pray – If we want to accept God's will and understand His desires for our lives, we have to be in relationship with Him. Relationships are built through time spent together, so that means we've got to read our Bibles and pray. There were times when I knew God was telling me "No, Roxanne, your desire is not what is best for you", but I didn't want to hear that. The closer I draw to God, the easier these types of difficult answers are to accept.

Psalm 111:2 "Great are the works of the LORD; they are pondered (studied, sought out) by all who delight in them."
Romans 12:12 "Be joyful in hope, patient in affliction, faithful in prayer."
Put His commands into practice – God's word gives us all sorts of wisdom about how to live our lives. It is clear about many of the things that are very important to God. Contentment comes when we allow God to change us into someone more like His son, Jesus.

1 Peter 2:15 "For this is the will of God, that by doing good you should put to silence the ignorance of foolish people."
1 Thessalonians 5:18 "Give thanks in all circumstances, for this is God's will for you in Christ Jesus."
Accept His will – REALLY!! Do you want to know the fastest way to be content? You accept the life God has given you today. The parts you like and the parts you don't like. When we accept the life we have today, we can really live for Jesus today. It can be fun, and even necessary, to plan and dream about the future, but we are actually living today. Don't let today slip by while you dream and plan about a better future. When we stop fighting God's work in our lives and embrace it, He can accomplish amazing things in us. We can truly begin to thrive and enjoy our lives when we accept what God has chosen as the best for us.

Proverbs 3:5-6 "Trust in the LORD with all your heart and lean not on your own understanding; in all your ways submit to him, and he will make your paths straight."
1 Timothy 6:6-7 "But godliness with contentment is great gain. For we brought nothing into the world, and we can take nothing out of it."
Hebrews 13:5 "Keep your lives free from the love of money and be content with what you have, because God has said, "Never will I leave you; never will I forsake you."
We have been waiting for a lot of things around here at the SMCH – a new foster family, more children to love, baby boy Weeks, and a mentor/aunt figure for the children here, but we have learned that being content with where God has chosen to place us today is the best way to prepare ourselves for what He has to come. I'm excited to see what the next few months and years bring for our ministry, but we are also content to do the things God is asking us to do today.