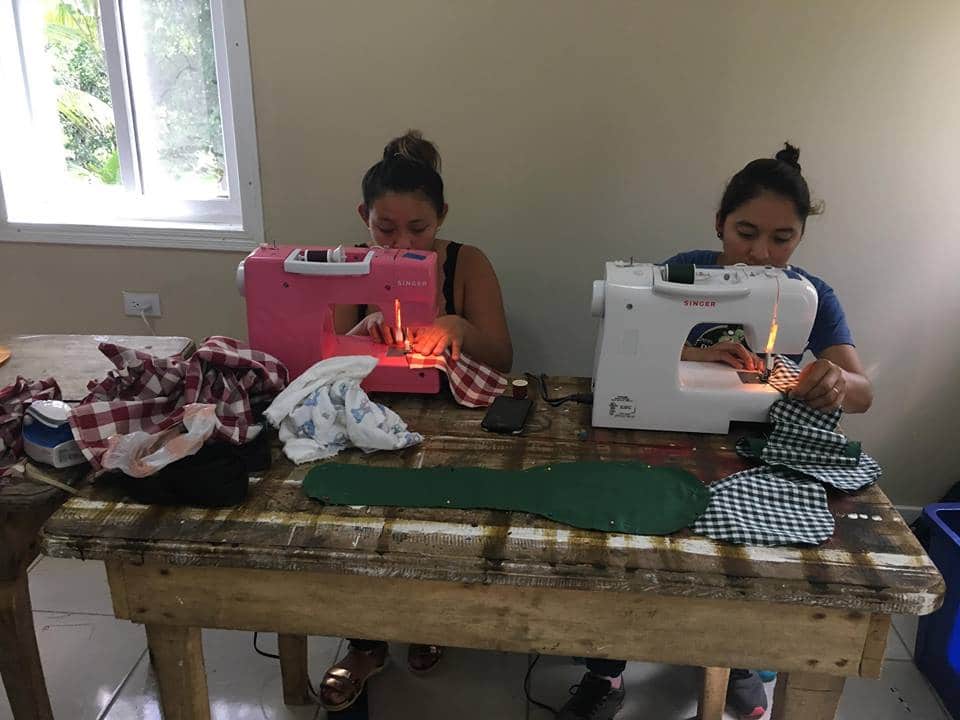 19 Jun

Light in the Darkness

I want to share a little bit with you about what God is doing here in Santiago. One of the ministries God has me pouring my heart into right now is the Sewing Clinic. Every Wednesday, I spend the day with some lovely ladies from our community, and we sew and laugh and grow together. And on Mondays, Roxanne facilitates a bible study for us all. Each week, as we sit in a circle and discuss what God has spoken to each of our hearts, we are given opportunities to grow and disciple each other, and it has truly been beautiful.

One of the ladies from our sewing clinic, Oneyda, has given me permission to share a blog about how thte sewing clinic has changed her life.

Last year when the sewing clinic started, Oneyda was incredibly interested because sewing has always been a dream of hers. She came the first day very very excited, and immediately, she stood out as someone who was truly talented. But what made her stand out the most was the way she grasped a new skill and then helped all of the ladies around her to understand as well. From the very first day, we knew she would be integral to the sewing clinic.

Fast forward about six months, we've all grown closer, and I learn that Oneyda has no electricity in her home. The nearest electric line is nearly 1000 feet away, and as we talk about our lives, she tells me that she dreams of having electricity in her home, and maybe someday, a bathroom…

Let that sink in for a minute. This woman is becoming one of my closest friends, she's at my house all the time, sewing, chatting, laughing, I've been teaching her to cook some American foods, and I realize one of my closest friends doesn't have electricity… Or a bathroom… She says she hasn't told me this because she was embarrassed. But she has been praying, and she KNOWS that God is going to provide light in her home through the sewing clinic…

Fast forward again to January 2018… Chris and I planned a trip to the states, and it is Micah's first time meeting a lot of our family. We planned a few fundraising events and told the ladies that if they had a few bags made before we left, we could bring some with us to sell at these events. We thought maybe they would make a few things… These women worked night and day, and we took back almost 250 bags, purses, and backpacks to sell!!! And we sold almost all of them. By the end of our visit, Oneyda had sold enough to pay for everything she needed to run electricity all the way up the mountain to her house. By late February, Oneyda had electricity in her home! And she was even able to buy some of the supplies she will need for a bathroom!
"I am the LORD your God, who brought you up out of the land of Egypt. Open your mouth wide, and I will fill it." -Psalms 81:10
Recently, I was talking to Oneyda about the sewing clinic and how she has become a leader. She said, "The sewing clinic has been such a blessing to me. I know you probably think that I'm talking about financially, but I'm most blessed by the way it has affected my walk with Christ. I have grown and changed so much this year. I know the Lord like never before. That is the biggest blessing!"
Lately, Chris and I have been discussing how we could sell more of the ladies' product and help provide specifically for Oneyda so that she can build a bathroom in her home. We decided we would pray that God opened doors, maybe through teams purchasing their products, or maybe He had different plans. Just a few days later, Justin proposed an idea… What if our sewing clinic made ukulele bags to sell with the ukuleles they are making in San Pedro?!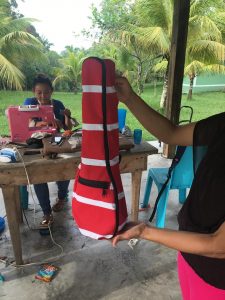 So our ladies went to work creating patterns and prototypes until they got it just right! And just like that, God is answering our prayers! We are selling amazing quality ukulele bags, and our ladies all feel so encouraged that God is always providing for them!
"And my God will supply every need of yours according to his riches in glory in Christ Jesus." -Philippians 4:19 
Please praise God with us for all of the ways He is blessing our ministries and LITERALLY shining light to penetrate the darkness. Our God is so good!